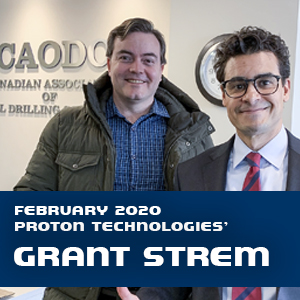 February's WeldCor Supplies CAODC Podcast is GOOD! As pipeline protests disrupt rail transport across the country, Canada continues to amaze the rest of the world by showing how difficult building routine infrastructure can be. Looks like 2020 may even exceed 2019 in the world of bizarre pipeline politics.
January's numbers are in! Drilling operating hours are up, service rig operating days are down slightly, and contractors are looking to hire! Overall, we are off to a good start in 2020, so get caught up with the CAODC RigData Industry Update.
Then, sit back and enjoy a fantastic conversation about the future of oil and gas in Canada according to Proton Technologies' Chairman and CEO, Grant Strem. Mr. Strem describes his exciting vision for the future of clean fossil fuel in the form of HYDROGEN.
We hope you enjoy February's episode. If you like what you hear, please give us a comment, like, or share!