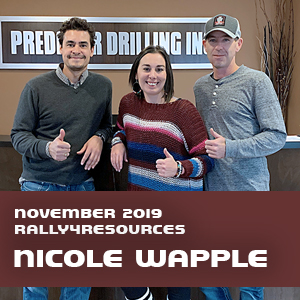 A chock-a-block episode of the WeldCor Supply CAODC Podcast for November 2019!
CAODC President and CEO Mark Scholz drops by the "studio" to give us a re-cap of this month's State of the Industry Luncheon (2:00) and an analysis of the 2020 drilling forecast (21:00).
Drilling operating hours are down year over year in October; for all the October numbers, listen to the Krux Analytics Industry Update (16:30).
And at the 29:15 mark, our guest of honour, Rally4Resources co-founder Nicole Wapple. Listen to this fantastic conversation recorded at the Predator Drilling offices in Red Deer, where Nicole talks about what inspired her and her husband Jeff to get into the grassroots advocacy space, and some of the many challenges and successes they have had over the past four years!