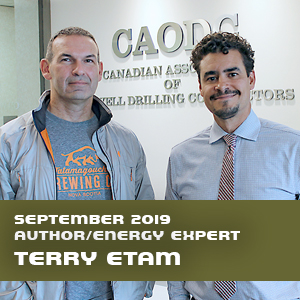 CAODC Podcast for September 2019.
August active rig counts and operating days are down year-over-year from 2018 numbers.
This month Terry Etam, author, blogger, and energy expert joins us in studio (aka the boardroom) for a great conversation!
Mr. Etam tackles the recent events in the Middle East, discusses his book The End of Fossil Fuel Insanity, and talks pipelines and energy literacy.
For more info on Terry, or to purchase a copy of his book, check out terryetam.com!