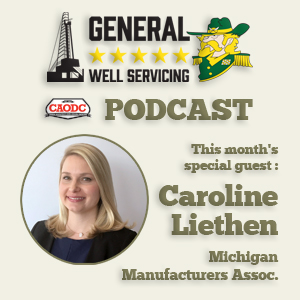 April showers, May flowers, and another edition of the General Well Servicing CAODC Podcast! The numbers are in and they are looking FRESH. How fresh, you ask? Well how do year over year increases of 111 per cent and 290 per cent for drilling and well servicing respectively sound!? Check out the RiggerTalk industry update (6:00) to find out more.
And our special guest this month is Caroline Liethen, Director of Environmental and Regulatory Policy at the Michigan Manufacturers Association (MMA). Ms. Liethen joins us to discuss how the potential closure of Line 5 will impact her members and their businesses, as well as some of the approaches MMA have taken to help people understand the impact of closing a pipeline that transports over 500,000 barrels of oil and equivalent each and every day.
Thanks again for listening! Please send any feedback or suggestions for guests you'd like to hear to communications@caodc.ca.