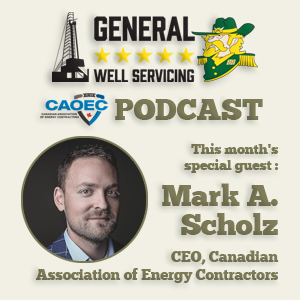 The heat is on as we head into the summer months, and enjoy all of the increasing activity levels we are seeing. May's numbers are looking good with the beginning of dramatic recoveries for both the drilling and service rig sectors. Check out the Riggertalk Industry Update at 0:51 for more!
Next, an update from our generous sponsors at General Well Servicing. We speak to Dennis Day and Eagle Sky Ventures' Derrick Bighill (7:11) about sector activity in Southeast Saskatchewan, the labour situation, and more!
And last but not least, May saw a historic rebrand for our Association as we said goodbye to the CAODC after 72 great years. Joining us to discuss how the Canadian Association of Energy Services was formed is CAOEC President and CEO, Mark Scholz (15:13).
Thanks again for listening and downloading. If you have feedback or suggestions for upcoming guests, please drop us a line at communications@caoec.ca.