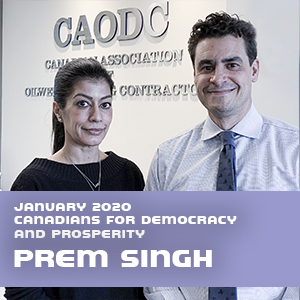 Our first WeldCor Supplies CAODC Podcast of 2020!
We kick things off with a 2019 Year in Review. CAODC President and CEO Mark Scholz joins John to discuss the political, infrastructure, drilling, and service rig activity through all four quarters! What our analysis lacks in substance we make up for in rambling banter!!
Then, we have a terrific conversation with our special guest, Prem Singh, Founder of Canadians for Democracy and Prosperity (59:25). Prem tells us about the reasons she started CDP, her emotional closing remarks at the recent Value of Alberta Conference, and gives us some insight into the political climate in Alberta and how politics have shaped our national energy conversation.
If you enjoy the show, please give us a like or a share, and if you have any suggestions for future guests, send us a note!