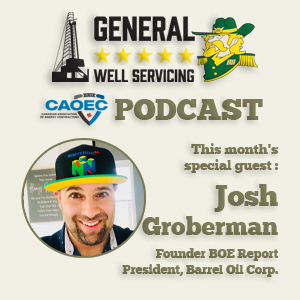 The rigs keep rolling on the General Well Servicing CAOEC Podcast, and July's numbers are UP across the board in both drilling and well servicing; check them out on the Riggertalk Industry Update (3:18).
And part two of our labour series features Josh Groberman of the BOE Report and Barrel Oil Corp. (11:39). Mr. Groberman's story is a great example for all young entrepreneurs of the many opportunities that exist in Canada's oil and gas industry for those who are willing to dream big!
The labour market it heating up, and our industry will need people looking for great careers. Please take the time to share this episode with your kids, friends, and family. As always, if you have feedback or suggestions for upcoming guests, please drop us a line at communications@caoec.ca.